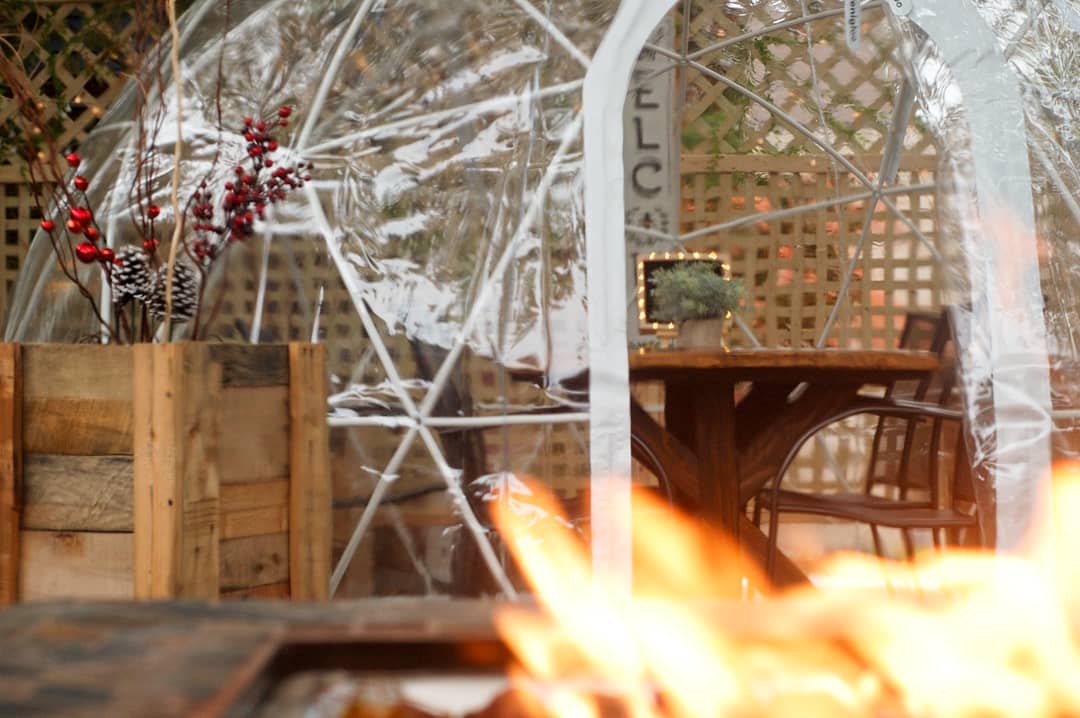 We're going big in our little bubbles! b-Domes and at Brandywine are heated snow globes with seasonal decor, beautiful lights + a table seating up to six in your own spacious little bubble. This unique experience includes a cheese and charcuterie board, your selections of our food + beverages made upon arrival, a Bluetooth speaker to make the experience yours + two hrs. creating memories with loved ones in a magical dome. Ready? Please keep reading first…
All safety and sanitation protocols will be implemented, just as they are in our dining room space. Prior to your reservation, the b-Dome (and everything in it) will be completely sanitized. To ensure your party is safe as possible, at this time only one seating per night will be allowed.
Please arrive on-time. If your party arrives late, we cannot extend the 2 hour rental. Please note that this dining experience cannot provide recommended social distancing standards with everyone in your party. It is your responsibility to ensure your fellow diners are ones that are close to you outside this dining experience. If anyone has any Covid-19 symptoms or has been in close contact to someone who tested positive within the last 10 days, please stay home and join us another time. Masks available for purchase upon request.
Experience includes two freshly washed cozy blankets.
A 20% gratuity charge will be added to your bill.  There is no tipping for this experience!
No Carry-ins.
Due to this unique set up, our service provided will also be unique. To keep you warm and avoid letting cool air in throughout your b-Dome experience, we will have your beverage packages set up upon arrival along.  We ask that you call us if there is anything you need while in your dome.
We ask once you're in the b-Dome, you remain in the dome until your party is ready to leave. Cough, cough… try to use the bathroom before entering. However, if you need to "go", we understand. Note it may just take a bit to warm the b-bubble back up!
Though this sweet b-bubble is heated, please dress appropriately. Feel free to bring blankets to cozy up! We'll have two freshly washed blankets available in case you forget.
Please do not move the heater in your dome. We have the dome heaters in a specific location to prevent damage to the outer shell of the dome. Any heater moved during your stay may result in a charge for damage to the shell or the frame of the dome. If you require assistance with your heating unit, please contact us via telephone immediately. These b-Domes are durable, however, puncturing the material is possible so please avoid touching the walls or grabbing a hold of the frame. 
In the case of extreme cold, blizzard, or dangerous icy conditions, we may need to cancel reservations to ensure safety and your comfort level. In these cases, we will contact you to give you the option to either reschedule your booking or receive a complete refund. We will make every attempt to make the cancellations well in advance of your reserved time, but reserve the right to make fully-refunded cancellations in the case of emergent weather conditions at any time.
Ready? Let's do this! Reservations can be made online anytime to reserve your very own b-Dome. We can't wait to serve you.
Cheers!
Please note: our process is subject to change. If you have any questions at all regarding this experience, please contact us via telephone. Thanks so much.